EBC Yellowstuff Brake Pads DP43094R for RAM 3.0 EcoDiesel, 3.6, 5.7 and 6.2 TRX (Front) 2019+
Yellowstuff is the 3rd category of EBC sports brake pads.
This brake pad compound is based on aramid fibres.
The enormous working range (up to 900°C) enables use in road traffic as well as on the race track.
Even for very heavy vehicles or vehicles that are driven with additional load (e.g. trailers), this surface offers the ideal conditions due to its properties.
Even when the brakes are cold, this brake pad offers excellent deceleration values for your RAM.
With increasing temperature, the "bite" of this sports brake pad nevertheless becomes significantly more aggressive, resulting in even better deceleration values.
Due to the "soft" pad compound, Yellowstuff sports brake pads can be run in quickly and are extremely gentle on brake discs.
Despite a long service life, this sports brake pad causes a high level of brake dust, however, as with all EBC brake pads, no aggressive brake dust is produced.
Like all EBC automotive brake pads, all EBC Yellowstuff sports brake pads feature a single-brake coating, broken edges, a heat groove and a powder coating.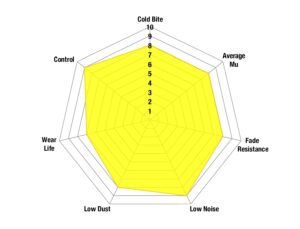 OE number (for comparison purposes only): 68520814AC
Approval: no
Installation location: Front axle
Fits:
| | | | | |
| --- | --- | --- | --- | --- |
| Make | Model | Engine | Year | Brake code |
| RAM | 1500 | 3.0 EcoDiesel | 2019 – 2023 | BNN |
| RAM | 1500 | 3.6 | 2019 – 2023 | BNN |
| RAM | 1500 | 5.7 | 2019 – 2023 | BNN |
| RAM | 1500 | 6.2 TRX | 2020 – 2023 | BNN |
Delivery includes:
- 1 set EBC Yellowstuff brake pads (DP43094R) for front axle